"the best Jerry Lee Lewis song the Killer never wrote,"Rock'n'Roll." Dan Forte, Vintage Guitar Mag, April 2006
"The Sprague Brothers are
reminiscent of the Beatles or
the Everly Brothers, but
with a sound that is very
much their own".
Bob Boilen , NPR
"The Spragues avoid the trap of pale tribute and instead crackle with raw authenticity". Michael Becker, North Shore News
"This one ranks as one of my favorite albums of the last couple of years. The playing, singing and songwriting are all beyond amazing. Shades of Buddy Holly". Mark E. Gallo, American Roots
"If Sinatra's 'Rat Pack' had been into Early Elvis, The Sprague Brothers would have been the house band."
--The Washington Post
"Oozing with talent, the close-harmony vocals & twangy guitars make the Sprague Brothers sound like a modern day Everly Brothers. But there's plenty more in here too - traces of Surf, hints of very early Beatles, and a healthy dose of Rockabilly too".
Raucous Records
"The Spragues really are a brothers act, and they have the rich vocal harmonies to prove it. Their band puts plenty of Rockabilly and surf Rock muscle into their sweet sound". Nick D. Real Player.com
"I'm turned off by the whole "fakeabilly" scene, but ya'll prove to me that the real deal is still out there. " Randy Fuller, The Bobby Fuller Four
"Frank Sprague's skills as producer are evident in the Spragues recordings." Sabrina Kaleta, New Times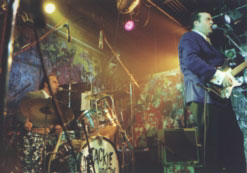 The SB's in Japan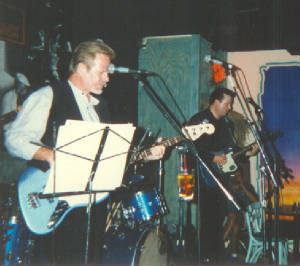 Randy Fuller and Frank on stage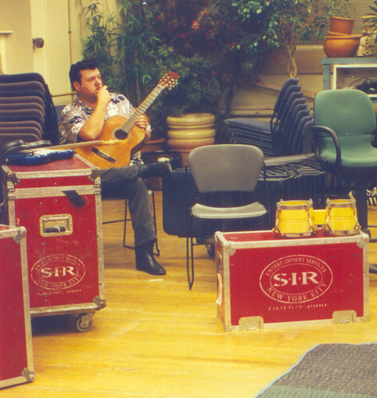 At CBS rehearsal, Frank ponders what millions of viewers will think of the SB's
"The Savage Sprague Brothers" CD
"The disc is dripping with Buddy Holly influences……flawless performance with innovative lyric movement and classic harmonies." My Texas Music.com August 2004
AMG Review of "The Song" by Mark Deming, March 2007
The Sprague Brothers play rockabilly and Merseybeat-influenced roots rock with such a sure touch that at their best, it's hard to tell their stuff from actual vintage material, which is less a product of worrying every sonic detail into the ground than capturing the heart and soul of the music on tape. After a spell on Hightone, the Sprague Brothers are once again recording for their own Wichita Falls label, and 2006's The Song shows these proud sons of the Lone Star State are still finding plenty of inspiration in their hometown's musical past. Guitarist and songwriter Frank Lee Sprague is the star of this show, picking up a storm and writing tunes that mine classic themes with a fresh feel and honest enthusiasm, while his brother Christopher Sprague lays down the big beat without making a fuss and lends some really splendid harmonies to this set. One can hear clear echoes of Buddy Holly ("Right Time 4 Love", the Searchers ("Money Makes The Man" and the Everly Brothers ("There's Always A Price To Pay") in these songs among others, but the craft and the love of the music is strong enough that the Sprague Brothers sound like kindred spirits of these masters rather than just another band trying to walk in their footsteps. The Song tends to sound like a collection of singles rather than a real-deal album — the diversity of textures sometimes prevents this from cohering as well as one might wish — but those phantom singles are records well worth hearing, and anyone with a passion for old school rock 'n' roll will get a big smile from this disc.
REVIEW
VINTAGE GUITAR APRIL 2006
The Sprague Brothers
Best Of The EssBee CDs, Volume I
El Toro/Wichita Falls
On the surface, Christopher and
Frank Lee Sprague seem like a rockabilly
revival band, but the program blasts off with
the surf-instro classic "Penetration,"
then shifts gears to a British Invasion-
inspired "Hippy Hippy Shake,"
before the more countrified covers and
originals seep in. Somehow, it all makes
sense – even a "Midnight Cowboy"-ish
arrangement of "You Only Live Twice"
(yes, the Nancy Sinatra hit from the
James Bond movie).
As the title implies, the 20 cuts are
culled from these vocalist/multi-instrumentalist
brothers' self-released CDs.
Besides drums, Chris plays upright bass
and steel, while Frank Lee plays lead
guitar, mandolin, fiddle, piano, electric
and acoustic basses, and pens all of the
originals – which are uniformly impressive,
whether it's the surf instrumental
"Green Arrow" or the Travis-picked "No
One Wants My Love" or the best Jerry
Lee Lewis song the Killer never wrote,
"Rock'n'Roll."
Other cool touches include a Bill
Haley-styled take on Gene Krupa's
"Drum Boogie" and the Skyliners' '50s
ballad "Since I Don't Have You" done
in Santo & Johnny mode.
And as multidimensional as it is,
this only represents a few colors of the
Spragues' spectrum; Frank Lee's latest
solo efforts, Merseybeat, and the brandnew
Cavern, pay homage to the British
Invasion. – Dan Forte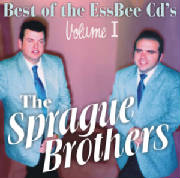 Fufkin.com Feb 2006
The Sprague Brothers -- Best Of The EssBee CD's Volume One (El Toro/Wichita Falls):
Frank Lee and Christopher Sprague exist both in the 21st Century and in the original rock and roll era between 1955 to about 1961. This disc compiles some highlights from their recordings dating back to 1999. Their brand of rock and roll tends a bit more to the country side of the equation, but they touch so many bases. Frank Lee, who recently put out a sublime solo disc of Merseybeat style material, pens old-fashioned songs that stand side-by-side with the covers scattered throughout the collection. There's a lovely Shadows-type instrumental, pure country (like a run through George Jones's "Tall Tall Trees"), Ricky Nelson-ish rockabilly ("Rock Rock"), some Everly-esque tuneage ("I'll Do It Every Time", an old Johnny Horton tune), a modern update on Jerry Lee ("Rock 'n' Roll"), and a classic or two (like a swell version of "Hippy Hippy Shake"). I can't stress enough how good The Sprague Brothers are. If you like retro 50's/early '60s rock and roll, I can't imagine you not enjoying this. Mike Bennett, Capsule Reviews, Feb 2006
"The Sprague Brothers recording carreer didn't stop with the end of their contract with Hightone. They released a bunch of records on their own Essbee label. This compilation gathers the best of this now hard-to-find albums. As usual with the Sprague's, you can expect fine songwriting and beautiful arrangements. Rock'n'roll is a term that everybody seems to use nowadays (no, Bonnie Tyler ain't a rocker !), but this is the best word to describe their music. A mix of surf (Penetration, Green Arrow), early Beatles ("I'll Be True" and its intro taken from Beatles' "Devil In Her Heart" would make Sir Paul jealous), and the usual Everly/Holly/Fuller influenced stuff . You'll find some rockabilly (Johnny Power's "Rock Rock") too, and "My Tender Heart" sees the bros go bluegrass. Frank and Chris play all the instruments, except on one tune where they are backed by Deke Dickerson and Shorty Poole, and the skills of each of them is simply amazing. Of course Chris is a good drummer (if you don't believe me listen to "Drum Boogie" a Gene Krupa meets Bill Haley song) but he can play steel, upright bass, sing fine harmonies and on "Just Over A Girl" he gives us a great piece of eefing. Frank Lee Sprague is even more impressive as it seems that no instrument has secret for him : surf guitar, bluegrass mandolin, Jerry Lee Lewis boogie piano... You name it, he plays it. Add extensive liner notes and you'll have another must-have, and as the title states Volume 1, we can expect a Volume 2 very soon."
Fred Turgis, December 2005